Choosing the right eCommerce platform is crucial. Magento holds significance as a leading solution in the eCommerce industry. This blog explains the differences between Magento 1 and Magento 2 while showcasing Intellect Outsource's Magento 2 development expertise.
Understanding Magento 1 and Magento 2
Overview of Magento 1
Magento 1, launched in 2008, revolutionized the eCommerce landscape with its robust features and extensive customization options. It quickly became a popular choice for online retailers due to its flexibility and scalability. Some key features of Magento 1 included multi-store management, advanced product catalogs, and a wide range of extensions to enhance functionality. Developers could easily extend and customize the platform with a modular architecture to suit specific business needs.
Introducing Magento 2
In 2015, Magento 2 was introduced as the successor to Magento 1, aiming to address the limitations of its predecessor and offer enhanced functionalities to meet the evolving demands of the eCommerce industry. Magento 2 brought substantial improvements, including a more user-friendly admin interface, streamlined checkout process, and better caching mechanisms, resulting in faster loading times and improved overall performance. Embracing modern technologies like HTML5, CSS3, and jQuery, Magento 2 offered customers a more seamless shopping experience.
Catering to Different Customer Needs and Business Requirements
While both Magento versions share similarities, they cater to different customer needs and business requirements. Magento 1, a stable and mature platform, is suitable for small to medium-sized businesses with basic eCommerce needs. It is also preferred by businesses that have heavily customized their online stores and may need more time to prepare for a complete migration.
On the other hand, Magento 2 is tailored for businesses seeking advanced features, scalability, and better performance. With its enhanced functionalities and improved mobile responsiveness, Magento 2 becomes an attractive choice for modern online retailers looking to provide a seamless shopping experience across various devices.
Enhanced Functionality in Magento 2
Magento 2 introduced significant enhancements to improve the overall eCommerce experience. The admin interface was revamped, making it more intuitive and efficient for merchants to manage their online stores. The streamlined checkout process reduced cart abandonment and improved conversion rates. Additionally, Magento 2 embraced modern development practices, making it more developer-friendly and easier to maintain.
Upgrading to Magento 2
For businesses currently on Magento 1 migrating to Magento 2 is a strategic move to access the latest features, security updates, and improved performance. Although the migration process requires careful planning and execution, it is a worthwhile investment to future-proof your eCommerce store and stay competitive.
Understanding the differences between Magento 1 and Magento 2 is essential to make an informed decision for your eCommerce platform. While Magento 1 served as a pioneering solution, Magento 2 offers enhanced functionalities and performance to stay ahead in the dynamic eCommerce landscape.
Major Differences between Magento 1 and Magento 2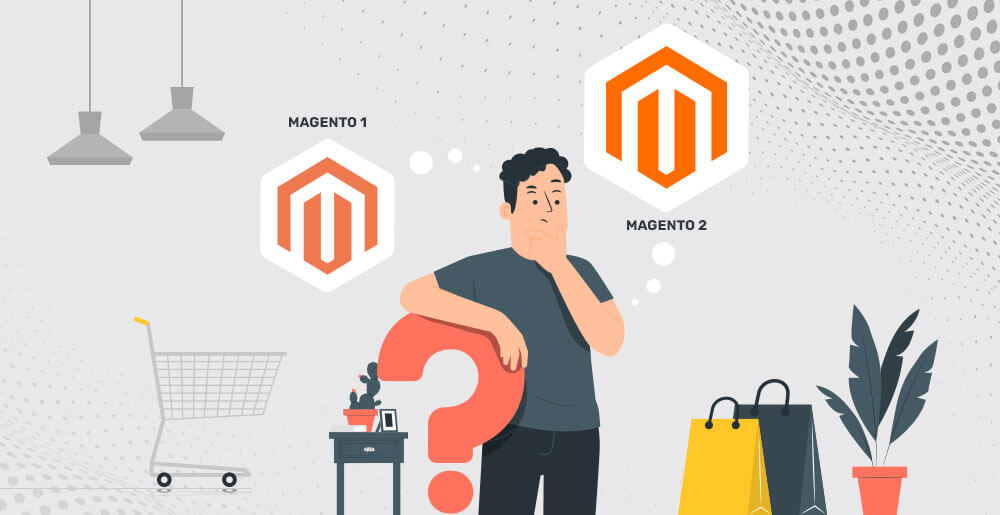 Performance and Speed
One of the most noticeable differences between Magento 1 and Magento 2 is their performance and loading speed. Magento 2 is built on a new foundation that makes it much more performant than Magento 1. With the introduction of Full-page Caching (FPC) and Varnish caching, Magento 2 significantly reduces server response time and delivers faster page loading. On the other hand, Magento 1 lacks these performance optimizations, which can result in slightly slower loading times.
User Interface and Admin Panel
Magento 2's user interface and admin panel have undergone a significant overhaul, making it more intuitive and user-friendly than the Magento 1 interface. The Magento 2 admin panel offers a cleaner and more organized layout, providing merchants with an easy-to-navigate dashboard to manage their online stores effectively. In contrast, the Magento 1 admin panel may feel more complex and less user-friendly for some merchants.
Mobile Responsiveness
Mobile responsiveness is crucial to eCommerce success with the rise of mobile shopping. Magento 2 recognized this and is optimized for mobile devices, ensuring a seamless shopping experience for customers on smartphones and tablets. On the other hand, Magento 1 themes may need to be more responsive, requiring additional efforts to make the online store mobile-friendly.
Checkout Process
The checkout process is a critical stage in the customer journey, and Magento 2 has made significant improvements to reduce cart abandonment rates compared to Magento 1. The checkout process in Magento 2 is more streamlined and requires fewer steps, simplifying the overall experience for customers. While Magento 1's checkout process can also be customized, it may require more development effort to achieve a similar optimization level.
Security Measures
Data security is a top priority for any eCommerce platform, and both Magento versions take security seriously. However, Magento 2 introduced additional security enhancements, such as two-factor authentication (2FA) and improved hashing algorithms, further bolstering data protection. While Magento 1 can also be made secure with proper configuration and updates, Magento 2's built-in security features ensure an added layer of protection.
Understanding these critical differences between Magento 1 and Magento 2 is crucial for merchants making an informed decision about their eCommerce platform. Magento 2 offers superior performance, a user-friendly interface, enhanced mobile responsiveness, and improved security, making it a compelling choice for businesses seeking to stay ahead in the competitive eCommerce landscape.
Upgrading Possibilities from Magento 1 to Magento 2
Magento 1 End of Life
Magento 1 reached its end of life on June 30, 2020, marking the end of official support and updates from Magento. While Magento 1 stores continue functioning, the absence of security patches and updates exposes them to potential vulnerabilities. As the eCommerce industry evolves, sticking with an outdated platform like Magento 1 can hinder growth and compromise the security of your online store. Upgrading to Magento 2 is a proactive step to ensure your eCommerce business's long-term sustainability and success.
Migration Process
Migration from Magento 1 to Magento 2 involves several essential steps. First, a thorough assessment of your current Magento 1 store is conducted to identify customizations, extensions, and data that need to be migrated. Next, a new Magento 2 store is set up, and data migration takes place, including products, customers, orders, and other crucial information. Extensions and custom functionalities are re-implemented or replaced with Magento 2 compatible alternatives. Once the data migration is complete, thorough testing ensures a seamless transition to the new platform.
Benefits of Upgrading
Upgrading to Magento 2 brings many benefits that can significantly impact your online store's performance and user experience. With its improved performance and page loading speed, Magento 2 provides a faster and more responsive shopping experience, reducing bounce rates and increasing conversions.
The streamlined checkout process in Magento 2 leads to reduced cart abandonment, further boosting sales. Enhanced security measures in Magento 2 protect your store and customer data, fostering trust and credibility with your audience.
Intellect Outsource's Expertise
Navigating the migration process from Magento 1 to Magento 2 requires technical expertise and a deep understanding of both platforms. Intellect Outsource boasts a team of experienced Magento 2 developers who have successfully executed numerous migration projects.
Their in-depth knowledge of Magento 2's architecture and capabilities ensures a smooth and efficient transition, minimizing any disruption to your eCommerce operations. By choosing Intellect Outsource as your migration partner, you can confidently upgrade to Magento 2, knowing that your online store is in the hands of skilled professionals.
Upgrading from Magento 1 to Magento 2 isn't just a necessity; it presents an opportunity to unlock the full potential of a modern and feature-rich eCommerce platform. With Magento 2's enhanced performance, security, and user experience, you can take your online store to new heights and deliver exceptional shopping experiences to your customers. Trust in Intellect Outsource's expertise to make this migration process seamless and hassle-free, enabling you to embrace the future of eCommerce confidently.
Intellect Outsource: Your Trusted Magento 2 Development Company
At Intellect Outsource, we take pride in being a leading Magento 2 development company with a track record of delivering exceptional eCommerce solutions. Our team of dedicated Magento 2 developers has over ten years of experience creating robust and scalable online stores that drive business growth and success.
Comprehensive Range of Services
We offer a comprehensive range of Magento services that meet the diverse needs of our clients. Our expertise extends to Magento theme development, where our skillful developers create customized, responsive, visually appealing themes that align with your brand identity. Our PSD to Magento conversion service transforms your design files into fully functional and feature-rich Magento stores, ensuring a seamless user experience.
Experienced Magento 2 Developers
Our team comprises highly skilled Magento 2 developers who have honed their expertise over the years, working on diverse eCommerce projects. Their in-depth understanding of Magento 2's architecture and capabilities enables them to implement complex functionalities and deliver tailored solutions that cater to your business requirements.
With our experts, you can be confident that your eCommerce venture will thrive with top-notch performance, enhanced user experience, and cutting-edge features.
Frequently Asked Questions
Final Words
The right eCommerce platform is crucial for the success of your online store. Magento 1 and Magento 2 are potent options, each catering to different business needs. While Magento 1 has been a pioneering solution, Magento 2 takes eCommerce to new heights with its enhanced performance, improved user experience, and robust security measures.
Upgrading to Magento 2 presents numerous benefits, including better speed, mobile responsiveness, and a streamlined checkout process, ultimately leading to increased customer satisfaction and conversion rates. Moreover, with Magento 1's end of life, migrating to Magento 2 becomes imperative to ensure continued support and security updates.
Take action now and unlock the full potential of your eCommerce store with Intellect Outsource's expert Magento 2 development services. Our experienced developers will guarantee a smooth transition, ensuring a competitive edge in the dynamic eCommerce market. Schedule a free strategy session with our Magento 2 experts today. Take advantage of this opportunity to elevate your online store to new heights!