Intellect Outsource is a pioneer in the eCommerce industry Since 2009. We provide a methodical and coherent approach to all eCommerce catalog processing services.
If you are looking for an outstanding product data management team to uplift your business, read on: How we shape up your business to success! In this blog, we share everything you need to know about eCommerce product data management.
Our product data management services allow your customers to have comfortable and smooth website navigation and, in turn, improve your store reputation and sales.
Being a key player in the eCommerce industry, we provide complete solutions and consultation for your eCommerce project requirements. We have been delivering the best quality ecommerce outsourcing services to our clients for the last 12 years.
We believe in action, not words.
Do you need product data assistance for your eCommerce business?
We are here to provide a complete package of product data management services to your eCommerce stores. Our professionals who have expertise in various eCommerce marketplaces & channels uplift your business through comprehensive methods and approaches.
In fact,
They resolve all your business concerns.
Benefits?
You can save tons of time, money, infrastructure, and effort.
The Detailed Process of Product Data Management at Intellect Outsource
Our product data entry team includes the Project manager, Team leader, Data Enquiry team, Data Scraping Team, Data upload team, Inventory & Order Management team, and Quality Checkers.
Tackles Multiple Sources of Product Information through Data Analysis:
The first phase of product data management is Data Analysis, and it begins with the investigation of client requirements.
Our enquiry team inquires about the project requirements from the client. They determine the needs of the client and communicate the same with the project manager.
At the same time, the client provides reference data with instructions for further project procedures.
When the provided data is sufficient for the next steps, the project manager assigns further processes to the catalog management team along with a team leader to manage the whole process, and they move ahead with the project with product data.
Else,
When the catalog management team requires additional information to move ahead, they convey it to the client to acquire more sources to get product data.
Depending on the product data sources client provided, the data scraping team scrap required information from it.
Product data can have many origins, formats, or resources. It can be data shared through catalogs, Excel sheets, PPT's, URLs, Manufacture/Supplier websites, or competitor websites.
Most of the ecommerce retailers think about How do I automate my ecommerce business? Our team is experienced in automation and scraping data from any source, and upon completing data scraping, the scraped data is given to the product data management team for further procedures.
Afterward,
We export online store's products and compares the products with the product catalog. They explore the nook and corner of the project to understand the pain points.
Temporarily or permanently discontinued products in a store can affect user experience, SEO performance, and sales to a great extent.
So firstly,
Our team figure out the discontinued products and then check for the price changes of products by comparing products with catalog.
Next,
In an eCommerce business, product variants improve ease of navigation between a combination of options. Hence, our team analyse and update new products and handle product variants efficiently.
Our team members track and update all changes to the existing product catalog or new products throughout the data analysis phase.
The process includes sample product creation, options arrangement, creation of product collections, type, etc.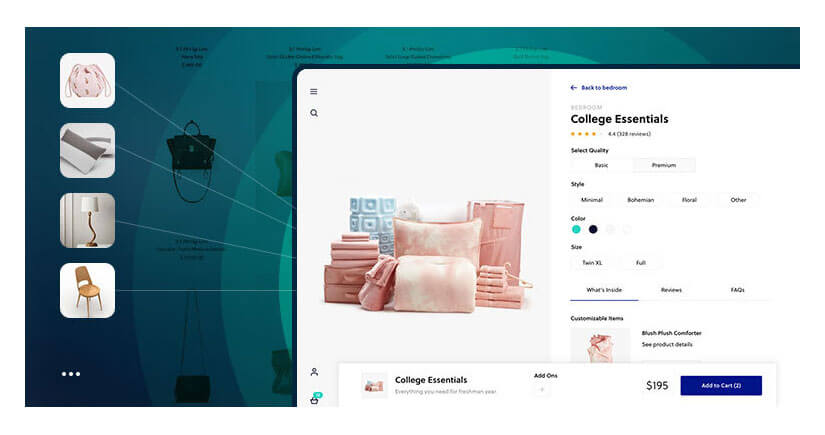 Using our expertise in creating products for different stores, we create a sample new product for the store according to the client's requirements and instructions.
On analysing the sample product, the client can convey their modifications and suggestions on the products. Then our catalog team input the requirements with the project and move ahead with it.
Later,
We arrange product options based on product type such as grouped, variant, custom, and bundled to ease product discovery. Also, we are capable of creating and optioning any number of products in a store.
If you run an online store after the homepage, your collection page becomes the second most crucial factor in winning customer's minds. This can significantly convert a visitor to a loyal customer.
We are experienced in creating conditions for product collections. Besides, we segment products into various product types according to their kinds and features.
In addition, our team is capable of creating product tags depending on the product types.
Categorization, Image Optimization & More:
The product catalog management process continues…
Next, we analyze and create SEO-rich titles and descriptions, define attributes, perform product categorization, create filter attributes, update images, color swatches, PDFs, videos, etc., to new products.
When customers search for products, what if they find your website messy with lengthy product content?
They search for other sites within seconds!
Customers have no patience in the case of online shopping. They don't need lengthy, elaborate, complex content; they just need simple and easy-to-understand content.
Hence the product content should be precise and simple to capture and stay customers for a long time. Our catalog team with expert content writers builds SEO-rich, engaging content for products.
How does a customer feel when they find myriad products in a store?
Does it find quite overwhelming to them?
A sea of products on a product page can be highly overwhelming and time-consuming to customers to go through.
Thus, we manage product categories to be organized and structured systematically according to product types or characteristics to quickly help customers find desired products.
What else in the product category to carry out smooth product filtering?
Here is the layered navigation!
Layered navigation is used to search for products by category. According to different stores, we can manage various filter attributes or layered attributes. Thus, quick filtering can be accomplished in a store.
And,
How we process image optimization?
Our team of experts with expertise in various image editing software and tools will process and manage the image editing segment of products.
As you know, images speak louder than words.
Customers search for products not only to get product descriptions but also to get a clear-cut product look. Therefore, good-quality images attached with product details will convince customers to a great extent.
A slow site with a quality image will not stay customers for an extended period. So, we optimize the images to scale down the website loading time.
Each image and color swatches have a psychological effect to interpret and convince about products in a store. Hence, our product catalog management team effectively handles color swatches and customized images.
Video clears up a lot of customer confusion regarding products. It is really a cool marketing strategy to attract customers. We attach videos and update various pdf files to online stores for better customer conversions.
SEO Management:
Increasing the quantity of traffic by appending SEO-rich keywords to your store will bring exceptional improvements in sales.
In order to bring that traffic to your store, our catalog team, along with creative and SEO savvy content writers, create keyword-rich meta tags and meta descriptions to products.
Distinct Marketplace & Multi-Channel Product Management:
Does Multi-Channel product upload possible at Intellect Outsource?
Obviously,
Multi-channel product uploading is essential nowadays for an eCommerce store to reach out to a wider audience.
Our team is proficient in creating templates and handling multiple eCommerce channels like Amazon, eBay, etc., in importing products as single or bulk.
Channel integration platforms help to bulk upload products to multiple channels in one go. Hence, our team uses their expertise to run various channel integration platforms like Linnworks, Channel Advisor, etc., to bulk upload products.
Dealing with Extensions:
At Intellect Outsource, we deal with various extensions or apps of multiple stores. We have expertise in customizing extensions according to the store.
Moreover,
We provide valuable suggestions, consultation, tips, or tricks on extensions to boost your store performance.
Product Upload Process:
Arranging product upload files systematically needs great attention to detail and keen observation.
So,
Our bulk product uploading team organizes and arranges any product import file in a suitable format with all fields filled precisely to import the product details to online stores.
How do you upload products to an online store?
Depending on the catalog size, we can upload products to your store weekly, every 2 weeks basis. Moreover, we offer accurate product data management services at an affordable cost.
Manual and bulk product upload are possible for us, and we complete the uploads within a quick turnaround time. Moreover, batches of product uploads are done in case of a thousand & more products.
Upselling, cross-selling and related products are the value-adding features of any store. After product upload, we effectively configure this value-adding feature to enhance customer experience in ecommerce websites which help to increase sales.
Uncovers Quality Issues:
Our team of quality checkers will check, uncover, and rectifies the quality issues by the end of each process, before and after the data being uploaded to the store. This is to ensure the accuracy and perfection in product data uploads.
Each and every product file is subjected to multiple levels of scrutiny and checks.
Besides, we maintain your store's database efficiently. Furthermore, we follow strict guidelines to ensure the high confidentiality of your business data.
Efficient Inventory Management at Intellect Outsource:
Inventory management is the primary concern of any eCommerce store as it maximizes potential sales.
If a store doesn't maintain adequate inventory, there is a chance of losing sales and customers. Or if a store carries too much inventory, there also has a chance of inventory becoming spoiled or outdated.
Hence, it is essential to manage the inventory effectively to minimize the above risks.
Our Inventory management team has deep knowledge of inventories. Knowing inventory means knowing what products the store has, where it's stocked, and how much it is worth.
After the products are uploaded to the store, our inventory team will take care of all your inventory data. Our team will keep track of inventory and control the stock levels by analysing stock reports.
Thus, we not only help to update the stocks but also helps to cut the expenditure by inspecting unwanted stocks.
Additionally,
We use automation tools to compare the inventories as bulk. Our inventory management Team lead communicates with the supplier on the client's behalf to import bulk inventories.
Thus, you can focus more on your core business tasks by outsourcing inventory management services with us.
Outsourcing Order Management - Empowers to Sell More:
When products are successfully uploaded to the store and inventories are updated correctly, the next concern of an online store owner is order management.
In the online shopping era, there is nothing effective than fulfilling customer orders. Here effective customer service brings fortune.
When customer orders are successfully fulfilled, there are more chances of that customer revisiting your store.
Intellect Outsource's order management team is efficient in handling orders. When an order is received, our team creates PO and ticket for particular order. In addition, we coordinate with suppliers for the smooth functioning of the process.
Customers like to get updates on their orders. So, we maintain to track and update order details on various channels where customers buy products.
Furthermore,
Upon receiving customer queries, our order management team quickly communicates with multiple suppliers. Thus, it avoids the probability of causing order delays.
Follow up's have a high significance in order management. It enhances the customer experience.
We frequently follow up the order details with customers, suppliers, and couriers to effectively fulfill customer orders until the customer ticket closes.
Also,
An efficient return and refund management process can rebuild your store's goodwill to a considerable extent. We also manage to resell products returned. Therefore, we systematically manage end-to-end order processing.
Hence, efficient order processing of your store empowers more sales.
Communication is Key:
Communication Medium Matter?
Of course!
Communication medium matters a lot in product data management.
According to the client's convenience, we use various project management communication mediums/tools like Trello, asana, skype, slack, etc., to communicate the different stages of the project.
Daily Updates for Improvements:
Our team leader communicates to you daily through mail or any communication medium to provide the daily status of the project so that you can touch on the improvement points of the project without delay.
Not Satisfactory?
We provide instant solutions to all your project-related issues. You can directly email the project manager or HR head in case of any issue like unsatisfactory project content or employee performance.
Our dedicated teams always satisfy client requirements. The team works under the client's command and control. The assigned project manager supervises the resources on the client's behalf to ensure high productivity.
What are the key responsibilities of an ecommerce product data manager?
Final Thoughts
From the above detailed working process, you understand that we are not just scrapping or automat data from the sources and upload as others processing. Once we commit, we offer complete support to manage your online store to increase the sales of your stores. Therefore we are saying that product data support is methodical for every ecommerce stores.
However, no matter which sizes your store is in, we offer the best quality and reliable product data support to you.
In a nutshell, Intellect Outsource offers complete management of an online store with 100% perfection. We understand a client's concern about managing an entire online store, and we provide timely support to them whenever they need it.
We aim to deliver a complete solution to all your eCommerce store requirements. Our dedication towards work and its perfection made us a popular outsourcing firm worldwide.
Entrust us. We deliver the best.