Bigcommerce Product Data Entry Services
Affordable Excellence: Unparalleled Product Data Entry, Listing, and Uploading Services

Intellect Outsource has been nothing but a pleasure working with. I commend their professionalism, expertise, and trying to understanding our business and taking ownership of it, keep it up!
Connect with an expert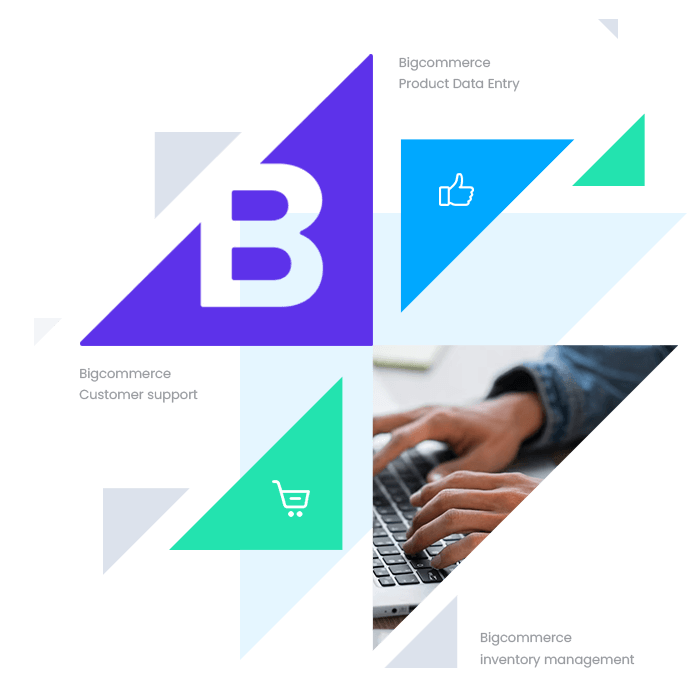 BigCommerce doubtlessly is one of the most reliable and comprehensive platforms available today. Among many other upsides, the adequate availability of back-end support increases its favoritism. The platform is simple but still fortified with unique features.
Regarding Bigcommerce product data entry and product upload services, we have proven expertise in delivering perfection, quality, and accuracy in all aspects. Our product data entry administrators focus on all vital elements to exploit the scope offered by BigCommerce to the maximum possible extent and thus uplift your ecommerce business to more significant elevations of success.
With an optimal investment of time and effort, our intellectual and exceptionally knowledgeable team carries out the procedures concerning product data entry with utmost care. Our first step is to initiate discussions with you regarding the project and its particularities. You are only required to provide brand-adding products SKU list, manufacturer website details, and login details of your BigCommerce store. Our expert BigCommerce data entry expert handles the rest of the work.
We always offer the best e-commerce solutions at the most competitive prices at a comprehensive range for online retailers. Clients can hire our staff for bigcommerce store maintenance services at hourly, full-time, and per-brand quotes according to clients' budgets.
Benefits of Bigcommerce product data entry services
Our highly trained and skilled professionals are talented to provide complete ecommerce store back office support remarkably. For more details
Hassle-free Bulk product data entry
Manage image checking of both new and existing products
Scrape and extract the necessary product data from vendors
Adding new products and updating current products with accurate information
Updating product prices, the stock promptly
Professional Product Listings
Allocating products to suitable categories
Managing product categories strategically
Experts to manage product options
Arrange and organize the data in the BigCommerce import template
Capable of writing unique and impressive product descriptions to allure customer attraction
Work SEO mannered product titles and subheadings to get the best rankings on SERP
Create SEO friendly URL and Meta tags
Optimize product Images for quick loading
Arrange product options and option sets, variations smoothly
Prompt Bigcommerce bulk product upload and image upload using a suitable template
Expert working with all Bigcommerce Apps
Highly trained and dedicated Bigcommerce virtual assistants
Our Bigcommerce Product Data Entry Work Process
Our Bigcommerce virtual assistance team is talented in making product entry efficient and effective. We make it simple and efficient for bigcommerce stores of all sizes to quickly get up-to-date info into the online business, so they can focus on growing their business.
Bigcommerce data entry services
We are expertise with most of the worldwide products. For more product data entry pricing details, please click here to visit our Areas Of Expertise in different ecommerce products. Our data entry professionals understand the specifics of BigCommerce shopping carts, and we are well equipped with the needed resource pool and skillset to perform data entry efficiently. We can develop quality data services for various products according to the BigCommerce spreadsheet arrangement procedures. Expertise in every section of BigCommerce data entry keeps us ahead of others.
Bigcommerce product upload services
Uploading products to bigcommerce stores needs to be handled very carefully. Our bigcommerce product upload service is accessible at a low cost. Our talented and skilled product uploading team can import thousands or lakhs of products in the shortest time frame. Our quality team verifies every part of the BigCommerce product listing to deliver error-free results. It helps get more sales and lets you focus on other significant businesses. For more detailed information, please visit ecommerce product upload services .
Bigcommerce Inventory Management
Save time and money. Our specialist inventory management team processes stock updates without any hassles. You don't need to pay any extra penny for this service. We offer free Inventory Management services once we commit to Bigcommerce product listing services.
Bigcommerce SEO services
SEO services are an essential part of ecommerce websites. Our staff are highly trained professionals in product listing. Our data specialist is good at researching SEO-friendly keywords and arranges product titles, meta tags, meta descriptions, image names, and categories favorable to SEO. This results in the top Google search and gives more value to SEO.
We offer 24-hour, non-stop customer support for Bigcommerce stores. Our reliable Virtual assistants profoundly manage Bigcommerce store back-end, email, chat, and tools like Gorgias, and Tideo. Our round-the-clock Bigcommerce customer support service will satisfy your customers and increase sales.
Bigcommerce product options
Our Bigcommerce data entry specialists are highly talented in managing the V2 platform with Option Set and the V3 Platform with Shared Variations & Modifier management. We professionally list options with 11 different option types such as checkbox, date, radio button, drop-down, rectangle, color swatch, list box, text box, numbers only, and product list. These arrangements help in listing options and variations, ideally in Bigcommerce stores.
Bigcommerce Product Images Optimization
Images play a crucial role in ecommerce. Our BigCommerce product entry team enhances the product image by optimizing it in the appropriate size and making it attractive using all editing and refining techniques with the help of the most advanced tools and techniques. We collect images from sources and arrange all images correctly in the main image, product's option images, and additional images. We manage product images, including resizing, optimizing, and uploading them to the bigcommerce platform without error. We also provide suitable titles and do everything necessary to benefit in terms of SEO and excellent image enhancement services.
Content is the king of the store. For projecting your product in the best possible light, our talented and professional copywriters can handle writing, editing product descriptions and content or creating product descriptions in a convincing and attractive tone. We are highly familiar to write with SEO best practices for compelling product descriptions. With the intelligent presentation of your products through optimally gauged words, customers communicate the upsides of your product entirely. Our product description writing service can lead to a hike in your product sales and an increase in SEO.
Contact us for BigCommerce Product Data Entry and Bulk Product Uploading requirements.
Our BigCommerce data entry and product upload service team with us possess high expertise in BigCommerce catalog management service. Get a quote for adding the list of products with variants from various manufacturers' CSV data files, options management, or the number of products added to your bigcommerce store; Intellect Outsource's product data management team offers you free sample work. Thus, You can understand our quality work, and if it pleases you, let us shake hands.
Get your free quote now !
Frequently Asked Questions
Our product entry team is committed to working with other eCommerce platforms.
Our Client's Testimonials
We hired Intellect Outsource to create a product upload template for our ecommerce store. They were incredibly responsive and made every change we requested. In addition to their responsiveness, the data was delivered in a matter of days! We will definitely be using Intellect Outsource again!
Gerrit von holt -
USA, Georgia
View all testimonials